PhysOrg.com: US Scientist heralds 'artificial life' breakthrough
and
The Guardian: I am creating artificial life, declares US gene pioneer
Potentially great, and potentially horrifying. If only we could better anticipate the pros and cons of technology, sigh. And if only I could read minds and fly and be invisible. Craig Venter fascinates me.
Inventor Spot: The Secret Life of Sunscreens
Wait, cosmetics with nanoparticles can potentially be absorbed into our bloodstream and breakdown our (thanks to Venter) Frankenstein DNA? OH MY GOD. We're all going to evolve into something like this: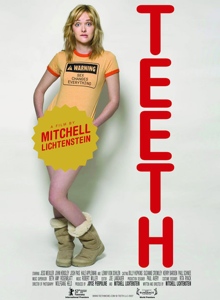 /Film: Sundance Horror Movie Teeth Finally Unleashed
It took us how long as a human race to cook up a film so unabashedly Freudian? I LOVE THIS. I'm not generally a big horror fan, but the irate feminist within me loves this to bits.
Question: Should the protagonist see a gynecologist? Or a dentist?
Speaking of altering reproductive elements, here's a slightly more palatable approach:
Papelera 21: Huevos Tallados
Breathtaking.
The existential rollercoaster I'm apparently on makes this Adams article apropos:
The Dilbert Blog: On the Other Hand
Okay, if you're not subscribed to Scott Adams's blog by now, you're clearly deranged. Anyway, I agree with absolutely every word in this; I've always been able to see multiple sides to everything without being schizophrenic (as far as I know), so...yeah. Rockin'. Speaking of seeing multiple sides to everything,
/Film: USA Network's "Thank You For Smoking" TV Series
Oh, lordy, I just love this movie, I can't wait to see this as a show! Oh boy, oh boy, oh boy. Then again, who could top Aaron Eckhart?
Here's a terrific ensemble cast:
the presidents on Mt. Rushmore sing "Teddy Bears' Picnic
This is SO ME, I'm going nuts. I especially love when the Death Star, 101 dalmations, an Air France plane and Gandhi make an appearance.
And now for some more silliness, albeit with some dark wit behind it:
From
Mitchell and Webb
-- had me laughing an unsightly amount. Clothes really can speak volumes about our intentions.
And now onto some pointlessly beautiful art, using WWII-era technology:
The Wall Street Journal: One Man's Bid to Save Morse Code
Intriguingly enough, the journalist for this article has the same name as my dad. But back to the point at hand: Morse code is loads of fun, and I use to be a whizbang dittybopper myself back in eighth grade (no lie), but I still don't feel this is really necessary. Then again, since when is true art 'necessary'? Discuss.
Speaking of gloriously unnecessary art which knocks my socks off:
This color palette matches the inside of my brain.
Marvelous.